DIRECTIONS
The Muse is located at 350 Moffat St, Brooklyn NY, 11237, between Knickerbocker & Irving.
By MTA subway
Check advisories before you leave!
$2.75 fare each way or $31.00 for an unlimited 7 day pass.
Take the L train to Brooklyn and get off at the Wilson Avenue stop, The Muse is only 2 blocks away.
By car
Park at your own risk, please check for signs and street cleaning days.
By foot / skateboard / bike
If you are new to Brooklyn, walk with a buddy if you are staying close by.
You are responsible for locking your bike or wheeled device to an appropriate rack.
There is no coat check. We cannot watch your scooter or skateboard.
August 19 & 20, 2016, 7pm
The Muse, 350 Moffat St
Brooklyn, NY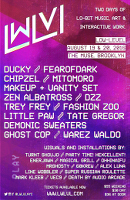 Tweets about from:lwlvlnyc